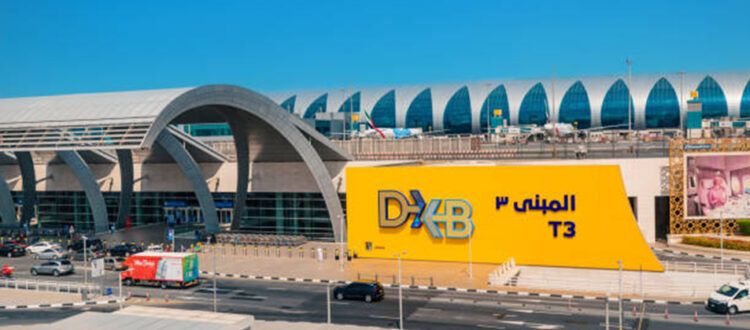 What Kind of Facilities Can You Get with Airport Transfer in Dubai?
Imagine this: You're about to land in the dazzling city of Dubai, ready to immerse yourself in its iconic skyscrapers, desert wonders, and unparalleled shopping experiences. But before you embark on your Arabian adventure, there's a place that promises a world of comfort and convenience from the moment you touch down – Dubai Airport. Curious about the extraordinary facilities that await you? Fasten your seatbelts as we guide you through a journey of luxury, efficiency, and a touch of whimsy at Dubai Airport!
Let Indus Chauffeur Service unveil the myriad wonders that Dubai International Airport (DXB) has in store so you can fully grasp the extraordinary trip ahead.
What Kind of Facilities Await You at Dubai Airport?
Dubai Airport is more than just a place to grab your luggage and rush out; it's a haven of amenities designed to cater to every traveller's needs. Let's delve into some of the exceptional offerings that await you:
1. Premium Lounges:
Have you ever yearned for a glimpse of pure luxury? Dubai Airport's premium lounges are here to turn that dream into reality. Imagine plush seats, delectable snacks, and impeccable service. Whether you're travelling for business or leisure, these lounges offer a serene oasis amidst the airport's bustling chaos. It's your private retreat, where you can commence or conclude your journey with an extravagant experience before exploring everything else the airport offers.
2. Efficient Airport Transfer Services:
Here's the heart of our discussion! Airport transfers in Dubai are all about effortlessly whisking you away from the terminal to your destination. No more fretting about navigating the city's congested traffic.
Hop into a comfortable vehicle, and presto! You're going to your hotel, a conference, or that perfect photo opportunity by the Burj Khalifa. These luxurious and convenient vehicles are affordable and provide a relaxing experience as you glide through the airport to your desired location.
3. Shopping Extravaganza:
Dubai Airport is your gateway to a shopping paradise. From high-end boutiques to duty-free treasures, you can acquire everything from designer clothing to local souvenirs. Who knew airport shopping could be this exhilarating?
In addition to the shopping options, the airport also boasts an array of gourmet adventures. Dubai Airport's culinary scene is an exploration from internationally renowned fast-food chains to high-end restaurants that deliver world-class dining experiences. Embark on a gastronomic journey that spans global cuisines, satisfying your palate with various dining choices.
4. Culinary Delights:
You'll find a selection of restaurants in addition to the retail establishments. The eating options at the airport range from high-end eateries serving fine dining to multinational fast-food brands. Get a taste of the world's cuisines with a variety of dining alternatives. In this gastronomic adventure at the airport, you'll find everything from fast snacks to extravagant feasts.
5. Tech Wonderland:
The electronic shops at Dubai Airport are a world of gizmos and gadgets for tech-savvy travellers. Looking for some new noise-cancelling headphones for your upcoming flight, or interested in the newest smartphone? You'd find it all there at the Dubai Airport! Modern devices and convenient travel accessories are all available, making your layover the perfect time to update your tech equipment.
Now that you're informed about the extensive facilities available at Dubai International Airport and what they have to offer, let's explore some additional benefits of these amenities:
Seamless Transition: Bid farewell to travel fatigue! Dubai Airport's facilities ensure that your journey from the sky to the ground is as smooth as silk. No more hauling around heavy bags or fretting over logistical challenges – the airport has got you covered.
Maximum Comfort: Are you awaiting a connecting flight? The luxurious loungers allow you to comfortably recline rather than sitting on an uncomfortable chair. You would find it an experience so comfortable that it will make you long for longer layovers. You'll discover a fresh motive to appreciate your time spent in an airport.
Time Well Spent: For as long as you stay, the airport provides a wide range of amenities to keep you comfortable and entertained. Unlike other cities, every minute at the Dubai Airport becomes an opportunity to unwind, refuel, and get ready for your Dubai adventure with services catered to your needs.
Spa Serenity: The spas at Dubai Airport have services that will have you floating in the clouds. Unwind, loosen yourself, and step into your next aircraft feeling refreshed.
State-of-the-art Technology: Use the modern amenities at the airport to stay in touch with the outside world. Wi-Fi hotspots and charging stations are available to keep you connected and prepared to share your travel experiences. As a result, you can stay in touch with loved ones, friends, or coworkers during your time in the airport and still be productive or unwind by watching streaming services to pass the time.
The Bottom Line!
Dubai Airport is more than just a transit hub – it's a realm of comfort, convenience, and a hint of extravagance. So, the next time you touch down in this enchanting city, remember that your luxury journey begins right at the airport gates. From luxury vehicles and professional chauffeurs to tailored services and timely transfers, these services are designed to cater to the diverse needs of travellers.
Whether visiting Dubai for leisure, business or a special occasion, airport transfer services provide a seamless and convenient way to start your Dubai adventure. So, the next time you plan a trip to Dubai, consider booking an airport transfer with Indus Chauffeur Services Dubai to ensure a smooth and memorable journey from the moment you touch down in the City of Dreams.