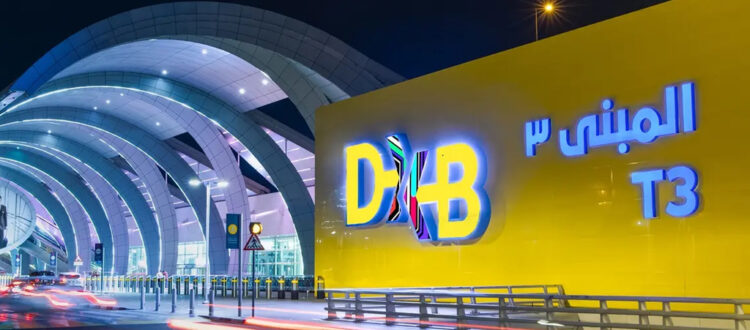 Dubai Airport Surpasses Annual Forecast, Serving 66.1 Million Passengers in 2022
Dubai International Airport (DXB) witnessed its yearly passenger traffic by more than twice as much last year, exceeding its forecasts and continuing to maintain the record for the busiest international airport in the world for the ninth consecutive year.
Thanks to a strong fourth quarter, the airport handled 66.1 million passengers in 2022, significantly beating its forecast of 64.3 million and expanding 12.7% yearly, according to operator Dubai Airports.
This time, last year, the outlook was nowhere near as bright as it is now - It's been a very reassuring set of numbers to record after what has been the darkest period in aviation history since 1903,
Paul Griffiths, chief executive of Dubai Airports, told The National.
According to the state-owned operator, passenger traffic increased 67% annually to 19.7 million in the last three months of 2022, making it the airport's best quarter since 2019.
With 7.1 million passengers, December was the busiest month of the year and the first time since January 2020 that Dubai International Airport's monthly traffic exceeded 7 million.
Despite an increase in passenger numbers and the absence of the travel chaos that last summer plagued big global hubs in Europe and the US, airport traffic is still below the 86.4 million passengers recorded in 2019.
As the UAE gears up to host massive global events like the Dubai Airshow and Cop28, Dubai Airports expects that 78 million passengers will travel through the international hub by the end of this year.
If monthly passenger numbers hit 7.5 million, a full return to pre-pandemic levels might occur by the end of this year or the beginning of 2024 – according to Mr. Griffiths.
The magic number to watch is the monthly passenger count, we were at over 7 million monthly passengers in December last year, and to reach the pre-pandemic highs we've experienced before, we would have to be up at 7.5 million passengers per month,
he said.
He further stated that a high probability of Dubai Airports reaching that figure during 2023 indicates that they are well on their way to a strong recovery, which is encouraging. Not only that, the Dubai Airports' Head is very optimistic about a complete revival and attainment of the pre-pandemic levels and even higher on an annualized basis.
According to Mr. Griffiths, Dubai is making investments in infrastructure and technology to maintain its position as the top airport in terms of the quantity and quality of its services to foreign travelers.
He further commented that aviation has become a very competitive industry right now, with other hubs in the Middle East trying their best to displace Dubai as the "Busiest Airport In The World," citing an example of the plans for a significantly big new airport touted to be revealed in Riyadh.
This is something we need to remain very mindful of to make sure we keep our number one coveted status that we've had over the years.
A "substantial growth" in passenger numbers will result from the expanded capacity serving Chinese cities following the reopening of China's travel markets as the nation lifted its zero-Covid policy, he said.
With a total of 25 weekly flights being operated by five airlines spanning seven cities between Dubai and China, Mr. Griffiths considers it to be a solid indication of the Chinese market's full recovery to pre-pandemic levels being on course.
The global aviation industry is experiencing a strong comeback, with virtually all of the nations having removed their Covid-19 limitations and people starting to travel again for both business and pleasure.
The largest long-haul airline in the world, Emirates, which is based at DXB, earned a record profit in the first half of its financial year.
As it focuses on getting operations back to their pre-pandemic levels and expanding its employees, the airline expects the travel demand to stay high throughout the second half of the fiscal year.
With 9.8 million passengers, India kept its position as the leading destination for DXB last year, followed by Saudi Arabia (4.9 million) and the UK (4.6 million).
According to Dubai Airports, destinations including the US, with three million travelers, and Russia, with 1.9 million, experienced higher passenger volumes in 2019.
London, Riyadh, and Mumbai were the top three destinations from DXB last year, each with three million passengers.
While the passenger transport sector continues to experience an upward movement, the air cargo volumes at DXB dropped in 2022, owing to the cooling in the global freight market after the unprecedented growth recorded during the pandemic.
In addition to the global freight market's cooling, the relocation of major freight operators back to Dubai World Central (DWC), paired with a reduced capacity resulting from the reverting of freighters to passenger planes post-pandemic played a key role in the reduction in cargo volume handled by Dubai, totaling to 1.7 million tonnes of cargo last year, a drop of 25.5 percent from 2021.
In the fourth quarter, cargo volumes continued to decrease, plummeting to 420,125 tonnes, a 31.7 percent decrease from the same time in 2021, according to Dubai Airports.
Source: The National News