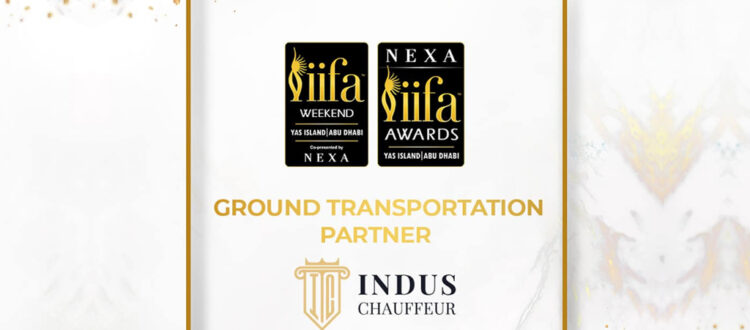 Indus Chauffeur: Official Ground Travel Partner for IIFA Awards 2023
Attention all Bollywood fans! Brace yourselves for an exciting event just around the corner – the much-awaited IIFA Awards 2023! Get ready to be swept away by the glitz, glamour, and jaw-dropping performances of Indian cinema's finest at this star-studded extravaganza. Who will be the lucky ones to clutch the coveted awards? What surprises and electrifying moments await us? But wait, there's more! In a thrilling twist, Indus Chauffeur Services, the premier luxury ground transportation company, has been selected as the official ground travel partner for this grand affair.
Get ready to uncover all the juicy details about the IIFA Awards 2023 and Indus Chauffeur's pivotal role in creating an unforgettable experience. So, fasten your seat belts and embark on a cinematic journey like never before!
IIFA Awards 2023 - Where Stars Shine Bright!
The IIFA Awards, also known as the "Bollywood Oscars", is an annual awards ceremony celebrating excellence in Indian cinema. Established in 2000, the IIFA Awards have become a global phenomenon, with fans eagerly anticipating the event each year. The awards honor outstanding achievements in various categories, such as Best Picture, Best Director, Best Actor, Best Actress, and many more.
The IIFA Awards 2023 promises to be an unforgettable extravaganza, with dazzling performances, red-carpet glamour, and heartfelt acceptance speeches. The event will showcase the best of Indian cinema and honor the talented artists who have made significant contributions to the industry. With the theme "Cinema Beyond Borders", the IIFA Awards 2023 aims to highlight the diverse and inclusive nature of Indian cinema, which has captivated audiences worldwide.
Indus Chauffeur – Official Ground Travel Partner for IIFA Awards 2023
Indus Chauffeur, a leading luxury chauffeur service provider in UAE, has been chosen as the Official Ground Travel Partner For The IIFA Awards 2023. This partnership is a significant milestone for Indus Chauffeur, showcasing its global commitment to excellence in ground transportation services.
As the official ground travel partner, Indus Chauffeur will be responsible for providing transportation services for the stars, dignitaries, and VIP guests attending the IIFA Awards 2023. The company's luxury vehicles fleet, including super-luxury vehicles, sedans, limousines, SUVs, and coaches, is meticulously maintained and equipped with modern amenities to ensure a comfortable and safe travel experience. Indus Chauffeur's professional and highly trained chauffeurs are known for their discretion, reliability, and exceptional customer service, making them the perfect choice for such a high-profile event.
Reasons to Choose Indus Chauffeur for Your Ground Travel Needs
Indus Chauffeur offers a wide range of services catering to clients' unique needs, including event transportation, airport transfers, airport meet & greet, city tours, MICE transportation management, and much more. Here are some reasons why you should choose Indus Chauffeur for your ground travel needs:
Reliable Service: Indus Chauffeur takes pride in its punctuality and professionalism. The company ensures that its vehicles arrive on time, and its experienced chauffeurs know the best routes, ensuring a smooth and hassle-free travel experience.
Safety and Security: Indus Chauffeur places the utmost importance on the safety and security of its clients. The company regularly inspects and maintains its vehicles to ensure they are pristine. The chauffeurs undergo thorough background checks and are trained in defensive driving techniques to provide a safe and secure travel experience.
Customized Solutions: Indus Chauffeur understands that every client is unique, and their transportation needs may vary. The company offers customized solutions tailored to clients' specific requirements, ensuring a personalized and seamless experience.
Luxury Fleet: Indus Chauffeur boasts a wide range of luxurious vehicles that cater to the diverse needs of their clients. From elegant sedans like the Mercedes-Benz S-Class and BMW 7 Series to spacious SUVs like the Cadillac Escalade and Range Rover, they have a vehicle for every occasion. Their fleet has modern amenities and features, including plush interiors, advanced safety technology, and in-car entertainment options, to ensure a comfortable and enjoyable travel experience.
Trained Chauffeurs: Indus Chauffeur's chauffeurs are not just drivers but trained professionals who excel in providing exceptional customer service. They are well-groomed, courteous, and knowledgeable about local routes and regulations. With their extensive experience in the industry, they ensure a smooth and safe journey for the passengers. The chauffeurs also handle VIP and celebrity clients with utmost discretion and privacy, making them the perfect choice for an event like the IIFA Awards.
Personalized Services: Indus Chauffeur understands its clients' unique needs and preferences and goes the extra mile to provide personalized services. From customized travel itineraries to special requests for amenities in the vehicle, it strives to exceed expectations and create a memorable experience for its clients. This personalized approach will elevate the travel experience for the stars and guests attending the IIFA Awards 2023.
Commitment to Sustainability: Apart from their commitment to luxury and customer service, Indus Chauffeur also prioritizes sustainability. It has a host of electric and hybrid vehicles in its fleet, making it an eco-friendly choice.
Indulge in Exceptional Ground Transportation with Indus Chauffeur
Indus Chauffeur is the Official Ground Travel Partner For The IIFA Awards 2023 and the ultimate choice for your luxury ground transportation needs. Whether it's airport transfers, corporate events, red carpet appearances, or any other special occasion, Indus Chauffeur ensures a premium and reliable experience.
With its top-of-the-line fleet, professional chauffeurs, and exceptional customer service, Indus Chauffeur sets a new standard for luxury ground transportation. So, Book now and experience the epitome of comfort, style, and Luxury with Indus Chauffeur – Official Ground Travel Partner for IIFA Awards 2023!