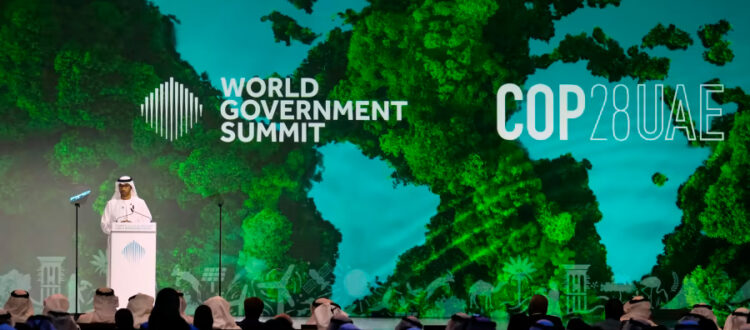 What Should We Expect from the COP28 Summit in Dubai?
The next COP28 Summit in Dubai UAE is set to be an important turning point in global climate change efforts. As the worldwide community gathers once more, expectations are high for this critical summit, which will bring together world leaders, policymakers, scientists, and activists to address major environmental issues.
The summit aims to build a path towards sustainable solutions, quicker action, and renewed promises to the Paris Agreement against the backdrop of growing global problems. With Dubai, a city famed for its technical achievements and ambitious sustainability projects, hosting this key event, excitement is building for the outcomes that will shape our collective future.
An Overview - COP28:
COP28 refers to the Conference of Parties' 28th session or the United Nations Climate Change Conference in 2023. COP has been conducted every year since 1995 as an opportunity for signatories to the UNFCCC (United Nations Framework Convention on Climate Change) to discuss and develop solutions to climate change, the century's greatest problem.
The historic agreement was signed by 195 parties (out of 199) who committed to limiting global greenhouse gas emissions and keeping global surface temperatures below 2 degrees Celsius to avoid disastrous climate change.
The Paris Agreement marked the start of a worldwide transition to net zero emissions, and it has prompted national governments around the world to take aggressive steps to decrease emissions and reduce carbon emissions in their economies.
Previous Conference's Takeaways:
The 27th session of the Conference of Parties was known as COP27. The meeting, held in Sharm-el-Sheikh, Egypt, brought together approximately 35,000 individuals from around the world to address global warming and climate change. It was viewed as an opportunity to progress issues from past conferences, but it also resulted in its historic advancement.
Here are the most significant insights from COP27:
● The creation of a Loss and Damage Fund.
● No new measures were introduced to reduce greenhouse gas (GHG) emissions.
● Failure to move away from fossil fuels.
Why did COP27 Fall Short on Certain Issues?
The ongoing war in Ukraine has put a strain on the energy supply, requiring many countries to increase their domestic fossil fuel reserves. Concerned about rising energy prices and the growing cost of living crisis, world leaders were unwilling to make any strong commitments to phase out the usage of fossil fuels. This essentially resulted in a watered-down commitment to "boost low-emission and renewable energy."
In addition to this, the conference's time created distractions. It coincided with the G20 conference in Bali, the opening of the Qatar World Cup, and the US midterm elections, which were only one week away. The conference's conclusions may have been influenced in some way by the lack of a singular focus on climate change issues.
Challenges of the Dubai Conference - COP28:
The COP28 conference in Dubai UAE is likely to face several challenges as the international community strives to address the complex issue of climate change. Here are some of the key challenges:
1. Ambition Gap:
One of the persistent challenges in climate negotiations is bridging the ambition gap between countries. Different nations have varying levels of commitment to emission reduction targets and financial contributions. Finding common ground and encouraging ambitious commitments from all countries can be a significant challenge.
2. Financing and Support:
Climate finance is crucial for enabling developing countries to mitigate and adapt to the impacts of climate change. Mobilizing sufficient funds and ensuring the transparency and effectiveness of financial mechanisms remain challenges. The conference will need to address how developed countries can fulfill their commitments to provide financial support to developing nations.
3. Loss and Damage:
The issue of loss and damage refers to the irreversible impacts of climate change that result in economic, social, and ecological losses. Developing countries, especially the most vulnerable ones, are disproportionately affected. Agreeing on measures to address loss and damage and providing adequate support to affected communities will be a challenge.
4. Technology Transfer:
Access to clean and sustainable technologies is crucial for achieving climate goals. However, transferring these technologies to developing countries can be hindered by barriers such as intellectual property rights and limited technical capacity. Addressing these challenges and facilitating technology transfer will be vital for global climate action.
5. Adaptation and Resilience:
Building resilience and adapting to the impacts of climate change is a priority, particularly for vulnerable communities and countries. The conference will need to address how to enhance support for adaptation measures, including capacity building, knowledge sharing, and financial assistance.
6. Political Will and Cooperation:
Climate change is a global issue that requires strong political will and cooperation among nations. However, differing national interests and geopolitical dynamics can impede progress. Encouraging collaboration, trust-building, and multilateral cooperation will be essential for overcoming these challenges.
7. Public Engagement and Awareness:
Engaging the public and raising awareness about climate change is crucial for driving behavioral change and mobilizing support. The conference will need to explore innovative ways to involve various stakeholders, including civil society organizations, youth groups, and indigenous communities, in the decision-making process and foster widespread climate action.
Addressing these challenges will require inclusive and constructive dialogue, commitment from all nations, and concrete actions. The COP28 conference in Dubai will play a critical role in advancing global climate efforts by finding effective solutions and overcoming these hurdles.
Chauffeur Services for COP28 Dubai:
These were the basic details about the COP28 summit in Dubai. If you are searching for the best chauffeur service in Dubai to attend the COP28, feel free to contact Indus Chauffeur Service Dubai. Here you will get all types of luxury transportation for any type of event that makes your traveling as smooth as possible. Also, we have professional chauffeur drivers to ensure the whole process is seamless and comfortable. Not only that, following our commitment to play our part in preserving the environment, a significant portion of our fleet comprises Electronic and Hybrid vehicles.
We are now accepting bookings for COP28 Conference, so contact us now before the slots get fully occupied!