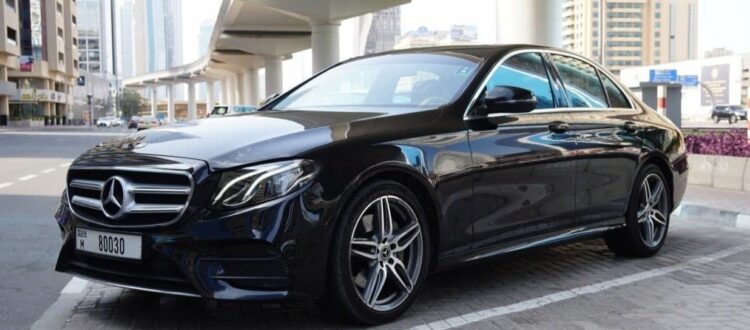 Why Should You Rent Mercedes E-Class in Dubai?
Driving a Mercedes E-Class sedan, one of the ultra-luxury cars in the market might provide you with a lifetime of enjoyment. These models' elegance will treat you to a comfortable ride, making you choose it repeatedly. This model may be the ideal vehicle for your requirements, especially in Dubai. Riders always enjoy riding a beautiful car with a top performance worthy of a head-turning curiosity.
The E-Class's well-designed safety technology will win your heart and ensure that you have a secure trip. There is no better choice than this brand on the roads of Dubai. Continue reading to find out why you need to hire a Mercedes E-Class in Dubai.
What Are The Major Reasons To Rent Mercedes E-Class In Dubai?
Riders enjoy the significant modifications Mercedes has made to the E-Class lineup! The new E350 base model is what the riders love the most because it features some outstanding specs. These vehicles' powerful engines provide an exciting ride with luxury and elegance. Here are a few reasons to convince you to rent this brand so you can tour Dubai in style:
1. Unmatched Style and Prestige:
The Mercedes E-Class is renowned for its timeless design, exuding class, and elegance at every curve. Its sleek lines, chrome accents, and iconic grille make it a head-turner on Dubai's bustling streets. Whether you're attending a high-profile business meeting or exploring the city's glamorous hotspots, the Mercedes E-Class ensures you arrive in style and make a lasting impression.
2. Luxurious Comfort:
Dubai's scorching temperatures can be exhausting, but the Mercedes E-Class car with chauffeur provides an environment of luxury and peace. This high-end sedan's interior is expertly designed with high-quality components, comfortable leather seats, and plenty of legroom.
Regardless of the weather outside, the ideal environment is created by advanced climate control systems, enabling you to relax and take in the trip. The modern suspension technology is also included in the E-Class, ensuring a comfortable and secure ride even on Dubai's rough roads.
3. Advanced Technology and Safety Features:
The E-Class is a prime example of Mercedes-Benz's dedication to innovation and places the business at the forefront of automotive technology. The car has several innovative features that are intended to improve your driving and increase your safety while driving.
You can effortlessly access navigation, music, and other media thanks to the user-friendly infotainment system's seamless connectivity. For extra safety while driving around Dubai, the E-Class also has technologies like adaptive cruise control, lane-keeping assistance, blind-spot monitoring, and automated emergency braking.
4. Powerful Performance:
Even the pickiest drivers will be impressed by the Mercedes E-Class's excellent performance on the road. The E-Class delivers a thrilling driving experience suited to your liking with a variety of engine options, including effective diesel and powerful petrol models. Driving through Dubai's busy streets is enjoyable due to the vehicle's excellent handling, quick acceleration, and smooth gear changes.
5. Enhanced Travel Experience:
When you rent a Mercedes E-Class in Dubai, you're doing more than just traveling from point A to B—you're also enjoying the glamor and elegance of the city. You can truly appreciate Dubai's grandeur while driving this magnificent car, from traveling along the renowned Sheikh Zayed
Road to seeing the luxurious Palm Jumeirah. You can arrive at elegant hotels, renowned restaurants, and trendy shopping areas in the E-Class with a sense of distinction.
The Bottom Line!
When visiting Dubai, a city known for its luxurious lifestyle, hiring a Mercedes E-Class is a choice that amplifies the glamor and prestige of your trip. With its unmatched style, luxurious comfort, advanced technology, powerful performance, and enhanced travel experience, the E Class embodies the epitome of luxury travel.
Whether you're in Dubai for business or leisure, renting a Mercedes E-Class will elevate your journey to new heights, allowing you to indulge in the opulence and sophistication that this remarkable city has to offer. You can hire a chauffeur service from Indus Chauffeur Services in Dubai, as we are here to make your experience memorable!