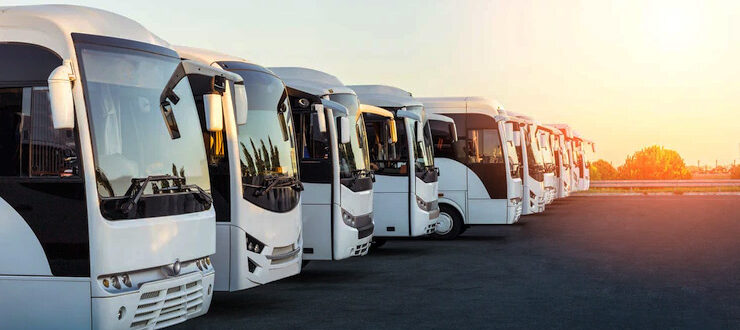 Benefits of Hiring a Charter Bus for Your Next Outing
A journey of a thousand miles begins with a single step. Nobody wants to spoil the excitement of the trip by taking any wrong turn. A perfect means of transport is one of the main elements to consider while planning a trip. If you're lucky enough to get the right kind of transportation, it can double your enjoyment and amusement. Hiring a luxury charter bus in Dubai has proven to be a great way to travel with a large group of people and also offers ideal amenities for pleasure. With charter bus service, all your worries regarding transportation issues, including driving on unfamiliar roads and traffic hassles are taken care of by a professional chauffeur in Dubai.
Luxury Charter buses in UAE are the most reliable option to plan your next group outing, as they can ensure you the comfort and safety you desire during your journey. Hiring a charter bus service in Dubai for your corporate events helps your employees to collaborate with one another and allows them to concentrate on networking and creativity at the event rather than worry about commuting to it. The entire group can keep in touch with each other while sharing their excitement and ideas about the tour till getting to the next destination.
Top 5 Benefits Of Hiring A Charter Bus:
You can plan to hire a charter bus in Dubai for any kind of group outings like corporate and social events, weddings and ceremonies, team building activities, family reunions, and school field trips. Here are some of the amazing benefits to expect from hiring a chartered bus in UAE for your next outing:
1. Perfect for team bonding.
2. Comfortable and secure journey.
3. Environmentally friendly.
4. Convenient and stress-free.
5. Cost-effective.
6. Ergonomic vehicles that ensure a relaxing journey.
Traveling together hardens team bonding. Whether you're attending a corporate event or going to spend valuable time with a group of friends, you will get to know your companions a little bit better. And getting a chance to know your team is the best way to build trust and work as a team. Hiring a charter bus service in Dubai for your group is tremendously beneficial for team bonding. A reliable and comfortable charter bus is far better than local transportation. It is the perfect choice for those who seek space for pleasant discussions with colleagues to strengthen team spirit.
1. Safe and comfortable journey.
Safety always comes first. One of the top priorities of the charter bus service in Dubai is to transport the passengers safely. The professional chauffeurs are appropriately trained and ensure to arrive the passengers at their desired destination safely and securely. Every bus undergoes routine inspection to confirm that a bus can carry passengers safely. Each piece of equipment is properly checked by the technical staff to avoid any unfavorable incident due to negligence.
The charter buses or coasters used for transportation are the most comfortable ones. Such buses are ideal for trips that take longer than a few hours. The seats of the charter bus are quite spacious and can tilt back easily. Due to sufficient space between its seats and able to recline allows you to extend your legs and relax throughout your journey. It offers maximum comfort and ensures a pleasant trip for every rider.
2. Cost-effective.
Traveling is not a free-of-cost pleasure. But you can find it affordable by making a choice of hiring a charter bus in Dubai which is considered more cost-effective than other local transport. With charter bus service, there is no need to worry about extra costs. You can get rid of all the other expenses like parking fees, toll fees, and maintenance charges. All this makes luxury charter buses the most affordable option for traveling with groups. There is no other way to travel more comfortably, inexpensively, and effectively as compared to other travel options.
3. Convenient and stress-free.
Luxury charter bus service in Dubai offers stress-free and convenient travel for groups. People prefer to travel when they want to relax because of their hectic office routines. Driving in heavy traffic or searching for available parking lots can be very stressful. With charter bus service in Dubai, people don't need to worry about driving and parking, they can enjoy the journey by sitting comfortably and reach their respective destinations without any hassle. Moreover, professional chauffeurs ensure that no one loses the group and remains together as it is quite difficult to keep track of everyone. A reliable charter bus service in Dubai is responsible for a convenient and stress-free outing.
4. Environmentally friendly.
When you're planning to travel in a group by hiring a charter bus in Dubai that means a large number of people are traveling in a single bus. Due to this, there are minimal chances of everyone taking separate cars or other transport. This results in less traffic on the road, fewer hazardous gases, and cleaner air. It will also reduce the traffic congestion on the roads and ensure you are traveling safely throughout the journey. Furthermore, you can peacefully concentrate on the surrounding scenery and relax with minimum visual hinderances.
How Indus Chauffeur Can Help?
Traveling is the healthiest addiction. People who like to travel in groups demand safety, convenience, and a hassle-free ride. Whether you're planning a trip for vacation or going to attend any corporate event or conference, Indus Chauffeur's charter bus service in Dubai is the perfect choice for you. Indus Chauffeur offers the most comfortable and convenient charter buses for its customers and ensures maximum safety at reasonable and competitive prices. Hiring an Indus Chauffeur charter bus in Dubai for your next outing gives life to your journey. Fore more details and quotation please contact us.