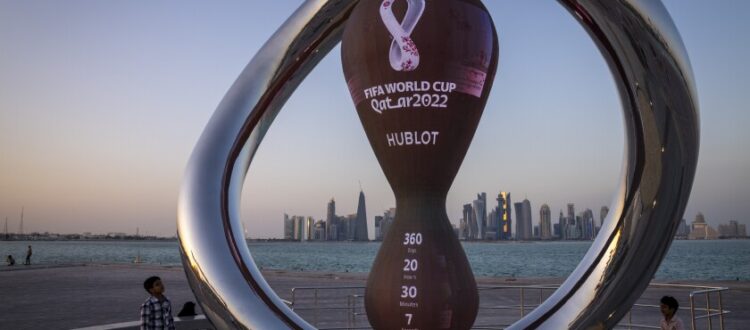 Dubai Gains The Most As World Cup Fever Spreads From Qatar In Tourism Boom
The tiny Gulf nation of Qatar is getting ready to receive more than a million soccer fans as it prepares for a World Cup tourism boom. One issue is that many of them are unable or unwilling to stay there.
Due to a lack of accommodations, tens of thousands of fans will base themselves in neighboring nations during the tournament's month-long duration. Match-day flights from major Middle Eastern cities will transport fans to games, bringing economic benefits to airlines, hotels, and hospitality venues throughout countries, including the UAE, Saudi Arabia, and Oman.
Dubai – it is a well-known tourist destination and stands to gain the most. About 40 of the more than 90 new flights arriving daily in the host city of Doha will originate in the United Arab Emirates. A new hotel constructed on the Palm has been set aside for visitors who intend to base themselves in Dubai and take the 40-minute flight to Doha with shortened immigration processes.
According to Paul Griffiths, CEO of Dubai Airports, Dubai would be "the key gateway" to the World Cup, with likely more travelers passing through than Qatar. "Qatar has a rather little amount of hotel capacity, but we have so much to offer here,"
For the past 12 years, Qatar has been preparing to host the Cup, and it expects the 1.2 million extra visitors to boost its economy by $17 billion. Due to worries about a lack of lodging, the organizers have rented two cruise ships and will set up more than a thousand tents in the desert. In addition, Doha will connect neighboring cities like Muscat, Riyadh, Jeddah, and Kuwait City via a regional shuttle service.
Saudi Arabia and Oman organize festivals to draw in visitors and ease travel. Due to the World Cup, the Saudi Tourism Authority anticipates welcoming 30,000 tourists, and those who have signed up for Qatar's Hayya fan card are eligible to apply for multiple-entry visas to the country.
The competition, according to Oman's Ministry of Heritage and Tourism, would "boost the profile of various regional attractions" and have a lasting economic impact.
The group stage, when four games per day will be played in stadiums in and around Doha, will be the busiest time for Qatar. While the farthest venue is only an hour away, the other two are only a 10-minute drive apart. Compared to the 21 World Cups that came before it, the event is now more condensed.
Brazil held matches in 12 locations, while Russia, which hosted the last tournament, had stadiums distributed over 11 cities. Mexico, Canada, and the US will all take turns hosting the 2026 World Cup.
According to Alan Holt, executive director of Expat Sport, a small tournament allows spectators to see multiple games daily. According to Holt, who spent the 2002 World Cup in Japan sleeping on the gym floor and living in a one-bedroom flat with four friends in Moscow in 2018, there has always been a housing crisis for major sporting events.
First-time visitors should leave the area impressed, according to Holt. "For some people, this is a once-in-a-lifetime opportunity. For others, it's a four-year adventure with friends, and for many, it's an opportunity to travel to a different region than they have before," the speaker said.