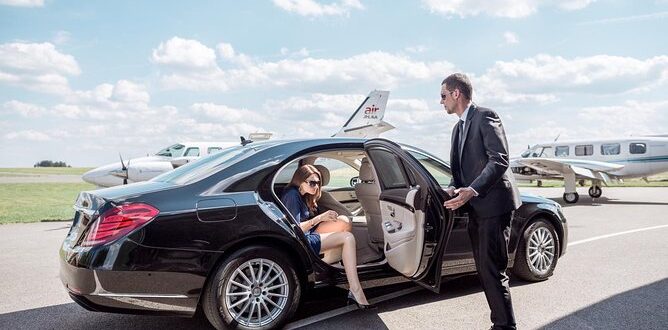 Hire A Car With Driver For Dubai Airport For Hassle-Free Traveling
Touring is a lifetime experience, especially when you're traveling somewhere new, then it can be both thrilling and exciting at the same time. This is why one needs to prepare everything to reduce their stress and enjoy the tour at its best. Usually, the primary concerns of people traveling to a new place are booking a hotel to learning about the local currency. However, even before that, when you travel to cities like Dubai, you must also know the Airport Transfers Dubai service. You should know how to reach the airport most conveniently.
However, when it comes to Airport Transfers Dubai, you will wonder why I should hire an airport transfer service rather than public transport or a taxi. While this may seem a sane idea, it comes with lots of frustration and stress.
Why Should You Hire a Car With a Driver in Dubai?
Forget about the stress of travel in Dubai. Because Indus Chauffeur makes your trip smooth and unforgettable by providing the Best Chauffeur Service in Dubai with optimum services such as:
Smooth and on-time airport transfers
Luxury and private transfer
Reasonable Price
Safe and secure service
Full-time service.
Neat & Clean Cars
Air-conditioned transport with an experienced, friendly driver
Safe & Luxurious Transport
Professional Drivers
Transfer and hourly bookings
No hassle of long port taxi lines
Prices include a local driver with Meet & Greet Assistance, vehicle, kilometers driven, taxes, fees, and gratuities.
Reasons To Choose Airport Transfers Service In Dubai
Here is why calling Airport Chauffeur service Dubai should be your first choice.
1. It Is Convenient
Opting for the airport transfer will lessen the stress of waiting for a taxi or local transport; you will have peace of mind that a luxurious car will be waiting for you outside.
Especially when you are with kids and luggage, things are more frustrating, but when you Hire chauffeur services in Dubai, you will not have to worry a bit because your designated driver will actively take care of your luggage. Even if the flight is delayed, the professional driver will be instructed to wait.
2. Flexible Choice Option
In Chauffeur Service Dubai, you will have a lot of options for the vehicle; depending on your budget and choice, you will have the option to choose a full family SUV, luxury, or economical sedan for hassle-free traveling.
3. Easy Booking
When you opt for the Indus Airport Chauffeur service in Dubai, you will need to provide specific information, or you can also visit their website for your details, and you are done.
4. No Hidden Charges
Many travelers don't opt for Chauffeur Service Dubai because they are afraid or concerned about the hidden charges associated with rented vehicles, such as fuel costs or tolls. However, you will be charged once renting a car with Indus chauffeurs in Dubai.
You just have to leave the hotel, get your luggage managed by the driver and enjoy a hassle-free journey in a luxurious car.
5. Safe And Secure Journey
The main concern of international travelers is their safety or security. Your security will be their primary concern when you hire a car with a driver in Dubai for an airport transfer. As a reputed professional in the market, Indus Chauffeur provides safe and secure service to ensure that its clients and customers always reach their destination safely and sound.
If You Want To Hire A Car With A Driver In Dubai Then Contact Indus Chauffeur Now!