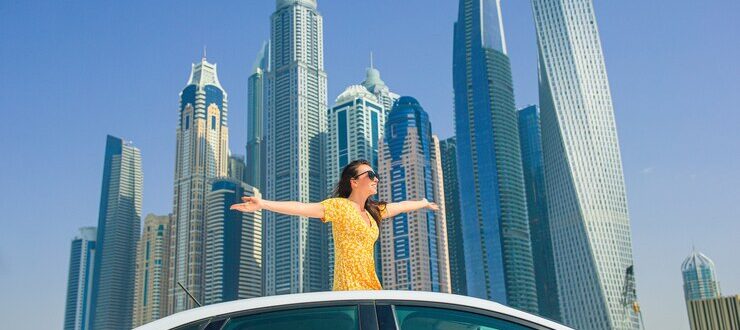 How About Exploring Dubai in Style and Luxury, Opt for Luxury Car hire in Dubai
It's everyone's dream to visit Dubai and enjoy its breathtaking views in luxury, be it for a single day, and what better way to do so than in a private chauffeured vehicle? Now it is very easy to book Luxury Chauffeur Services Dubai without any complications. Picture yourself cruising through the city's iconic skyline in a sleek, luxurious vehicle, turning heads at every corner.
In this blog, we are going to discuss how to explore Dubai and the best way to commute to make the experience worthwhile. So, take a moment and read the following details to know more.
An Overview:
Dubai developed itself into a global corporate hub and a luxury tourist destination, rising to become one of the world's wealthiest governments. Its economy remains strong and diverse, and it generates cash in a variety of ways, including manufacturing, delivery of services, and tourism.
In contrast to its neighbors, whose economies are primarily dependent on oil extraction and related services, UAE in general, and Dubai, in particular, has a diverse economic foundation based on finance, trade, transportation, tourism, energy, and tech. Dubai specifically is a popular economic center and a wealthy state due to business-friendly regulations, low value-added tax rates, and no income tax.
Fulfill Your Dreams Of Driving Luxury Cars In Dubai:
You can hire a car in Dubai for as long as you wish on an hourly, daily, weekly, or monthly basis. Chauffeur services in Dubai are both easy to book and cost-effective. A private car not only helps you be cost-efficient but also saves you a significant amount of valuable time. You will be able to go wherever you want whenever you want, especially to places that are not accessible by subway/metro or bus. Drive around in a sports car rental in Dubai or a super-luxury vehicle and experience supreme luxury and speed while taking in the true delights of this magnificent place. With the city known to have the biggest, largest, longest, most expensive, and most luxurious of everything, there are a host of vehicles to choose from.
When you choose a luxury chauffeur in Dubai, you can expect the best, as these vehicles provide high-class technology, relaxation, and exceptional performance combined with value for money. You have the option of hiring a chauffeur or driving yourself. The transportation business in Dubai is becoming more and more competitive by the day, resulting in car rental & chauffeur companies providing fantastic deals on their automobile rentals.
Improve Your Driving Experience In Dubai:
When someone plans to explore cities like Dubai or any other place for that matter, they want every moment to be worth every penny, and filled with luxury and comfort. When you choose a private Car hire in Dubai, it allows you to take your trip experience to the next level and execute those plans comfortably. Hiring a luxury car doesn't only add joy to your journey but it also gives you an unrivaled level of prestige.
Effortless Navigation Through Dubai's Marvels:
Dubai's grandeur is not limited to its architectural wonders; the city is vast and filled with incredible attractions spread across different districts. Navigating through this cosmopolitan city can be made effortless with a luxury car hire. Equipped with advanced navigation systems, these vehicles ensure you reach your desired destinations with ease, allowing you to make the most of your time in Dubai.
Showcase Your Personal Style:
Dubai is a city that appreciates personal style, and what better way to make a statement than by arriving in a luxurious vehicle that matches your taste? Whether you prefer sleek and sporty or sophisticated and elegant, luxury car hire services in Dubai offer a diverse range of options to suit your preferences. Showcasing your style through your choice of vehicle adds an extra touch of glamor and exclusivity to your Dubai experience.
A Memorable and Photogenic Experience:
Dubai is a city of spectacles and has some of the most stunning backdrops, with iconic landmarks like the Burj Khalifa, Palm Jumeirah, and the Dubai Marina. Exploring these attractions in a luxury car not only makes your experience more memorable but also provides an excellent opportunity for capturing breathtaking photographs. Imagine posing next to your dream car against the backdrop of Dubai's architectural marvels – the memories created will be truly unforgettable.
The Bottom Line!
Dubai is a city that defines luxury and extravagance, and exploring it in style and opulence is an experience like no other. By opting for a luxury car hire in Dubai, you can unlock a world of unparalleled comfort, prestige, and personal style.
So, if you're planning a visit to this incredible city, consider indulging yourself in the epitome of sophistication by choosing a luxury chauffeur service like Indus Chauffeur. They offer reasonable prices and provide you with a top-class luxury car to live your dream in Dubai.
Prepare to turn heads, capture amazing photos, and create memories that will last a lifetime as you cruise through Dubai's vibrant streets in the epitome of automotive excellence.