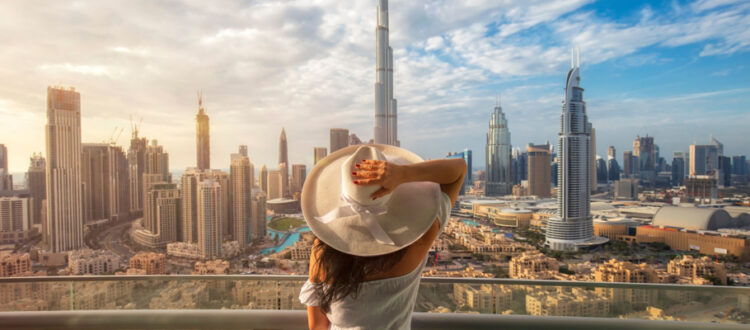 How to Spend a Wonderful Weekend in Dubai?
Dubai – A beautiful city considered to be one of the most lively and visited cities in the world. Dubai comes alive at the weekends. It is the perfect destination for a short break away from a usually hectic schedule. Whether you're on the hunt for leisure, shopping, or simply killing boredom, spending your weekend in Dubai can be the finest option you can avail for yourself. Millions of tourists and travelers from all over the world visit Dubai every year for beautiful sightings, to explore superb places for shopping, and to enjoy amazing nightlife with friends that ultimately rejuvenates oneself and releases the stress of their daily hectic and monotonous life. This cosmopolitan city has everything and more to make an impression on its visitors for all the good reasons.
If you're visiting Dubai for the first time and looking for a suitable means to commute, then the most comfortable and economically feasible option would be hiring a chauffeur service in Dubai rather than trying to catch public transport or taxi or driving yourself. Indus Chauffeur, a well-reputed chauffeur service company in Dubai offers a super luxury car with an experienced chauffeur for all of your traveling needs. The freedom of private chauffeur services in Dubai allows you to explore the top tourist attractions in Dubai city according to your choice and convenience. By hiring a chauffeur service, you can freely visit your favorite tourist place and spend as much time as you want without any worries. Furthermore, they make your day wonderful by providing you with a timely pick and drop service from your residence to the destination.
In this blog post, we will discuss the most visited tourist attractions of Dubai City that can surely make your weekend memorable.
1. The Burj Al Khalifa
If there is anything that represents modern Dubai, it is none other than the sky-reaching landmark of the Emirate – Burj Al Khalifa. It's unimaginable to visit Dubai without feasting your eyes on Burj Al Khalifa. The world's tallest building is one of the unforgettable places to visit as it dominates the skyline of Dubai. It not only houses the world's highest observation deck and the tallest sightseeing point but also offers an astonishing view of the fountain fire show set on the 30-acre manmade lake to its visitors. It is indeed a flabbergasting experience witnessing the water shoot up to 550 feet in the air.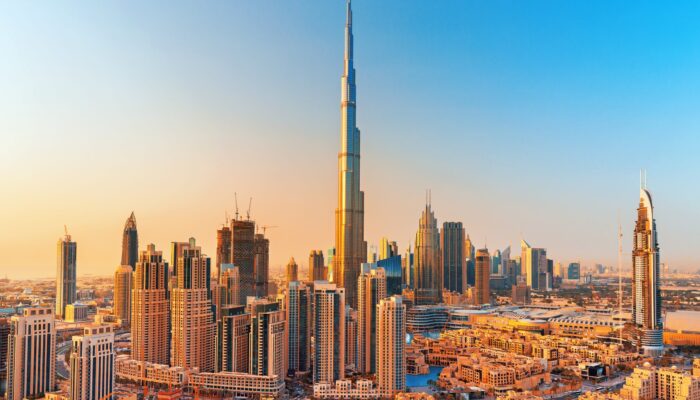 If you want to visit the soul of Dubai City – Burj Khalifa, you can hire a private chauffeur for your traveling necessities. He will take you to the location from the Dubai International Airport in 20 minutes. Moreover, the chauffeur can also book the entry tickets in advance on your behalf. Burj Al Khalifa would most certainly be the most unique and worth-visiting place on your weekend to-do list.
2. Palm Jumeirah Dubai
The palm tree-shaped Jumeirah Island is the world's largest man-made island and is regarded as one of the wonders of the world. Palm Jumeirah is well-known for its glamorous hotels, global restaurants, stylish apartment towers, and most importantly its palm-shaped man-made architecture. Another amazing factor that makes it worth visiting is, you will find blue ocean water everywhere around you in Palm Jumeirah Dubai. It is not just a tourist attraction point that you can visit and enjoy but more of a small town in itself where you can wander around and explore it with your very own private chauffeur. Palm Jumeirah is one of the most scenic places to stay for days or spend your weekend with friends and family.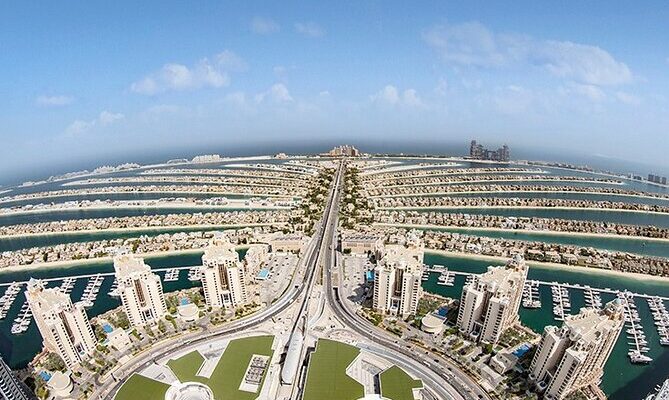 3. Ain Dubai
Ain Dubai is the biggest and tallest Ferris observation wheel in the world with a height of 210 meters. It is located on Blue Waters Island in Jumeirah Beach. It offers 360-degree views of the Dubai skyline. The wheel has the capacity to carry up to 1,750 passengers in its 48 cabins. It provides phenomenal views of Dubai Marina and other world-famous landmarks like Palm Jumeirah, Burj Al Arab, and Burj Al Khalifa.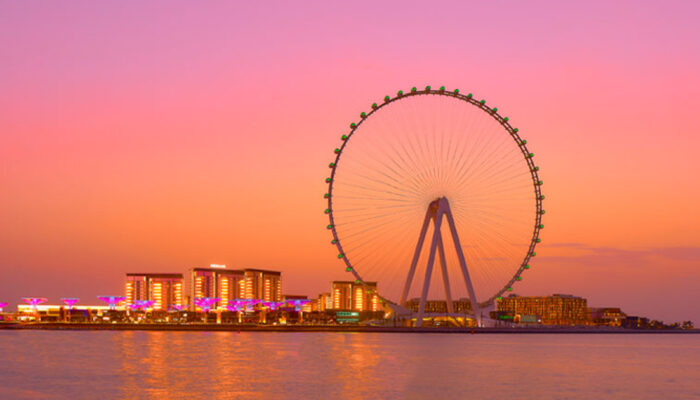 In the vicinity of Ain Dubai, you will find several luxury hotels, mouth-watering food restaurants, residence apartments, and many retail outlets for shopping too. This newly built place is considered to be one of the most sought tourist destinations for all ages of people who want to enjoy a short tour in Dubai. If you want your journey hassle-free, hiring a chauffeur service for this trip is highly recommended.
4. Burj Al Arab Jumeirah
Burj Al Arab is another famous attraction spot in the city of Dubai. This luxurious seven-star hotel is located in Jumeirah, a few minutes away from the blue sea on a manmade island of the gulf ocean. This architectural marvel is specially designed to resemble the sail of the ship. It is one of the most visited tourist sites in Dubai consisting of 56 floors having 199 exclusive suites, catering to a very premium clientele. Many travelers prefer to spend a whole day doing various activities such as taking wonderful pictures, swimming on Jumeirah beach, and walking on the beach edge desert. It is approximately 30 Minutes away from the DXB airport if you opt for a private chauffeur service in Dubai. This has to be another must-have destination on your bucket list.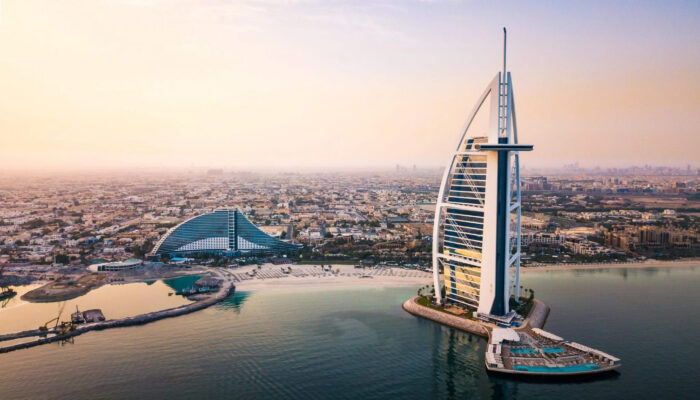 5. Dubai Miracle Garden
Every year when the winter season approaches and the weather cools, the gates of Dubai Miracle Garden reopen for nature lovers. It is flowered with 72,000 sq.m picturesque and sweet-scented tourist heaven in the region and has more than 150 million flowers in full bloom. It feels like you're a million miles away from the hustle and bustle of the city.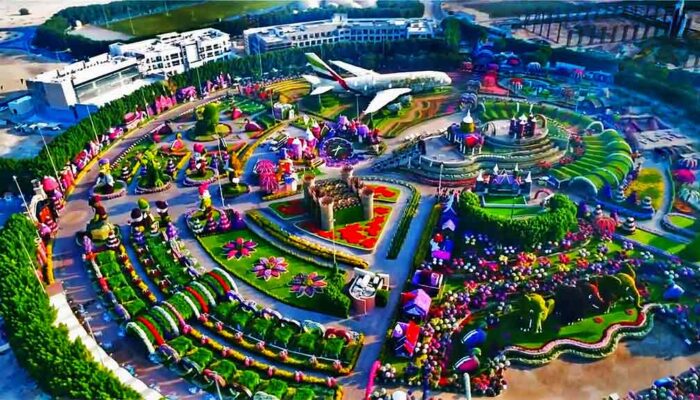 If you need to spend some time peacefully, then the Dubai Miracle Garden is a wonderful place to visit and spend a few quiet hours during your weekend in Dubai. Every season, Dubai Miracle Garden eagers to win the hearts of its visitors with overwhelming visuals and a remarkable experience which gets etched on their minds and makes a memory worth sharing and reminiscing about.
The Bottom Line!
Dubai is undoubtedly the most resourceful city when it comes to tourist attraction destinations. Once you're in Dubai, make sure to visit all of the attractive places we discussed, including Burj Al Khalifa, Burj Al Arab, and Palm Jumeirah. It would be enjoyable and entertaining for you and your family to spend a wonderful weekend in Dubai without any worries, and what better way to do that than hiring a private chauffeur service like Indus Chauffeur Services? We offer a wide range of chauffeur-driven luxury cars that help you to reach different attractions in Dubai.
Feel free to contact Indus Chauffeur Services to travel across the UAE in a high-class luxury car.