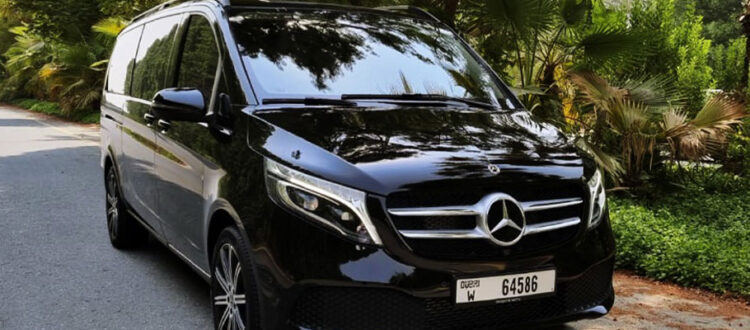 Multipurpose Chauffeur Driven Mercedes Viano In Dubai
The Mercedes Viano (V-Class) is one of the most popular luxury chauffeur-driven cars in the market due to its marvelous interior, comfortable drive, and spacious passenger and luggage area. Mercedes Benz is committed to setting newer and higher standards of luxury designs, styles, and performance of cars. The Mercedes Benz Viano V-class model is suitable for all the events like executive travels, airport transfers, special occasions, and all chauffeur-driven travel needs.
New Mercedes V Class Chauffeur Car Features
Undoubtedly the Mercedes V Class category is sought by many people due to its comfort and versatility. The Mercedes Viano V Class Car can accommodate 6 passengers and up to 5 large suitcases in the LWB. This multi-passenger car has an extraordinary and spacious interior along with conference-style seating which gives a roomy and fresh environment. It comes with adjustable leather seats and a fully air-conditioned cabin with automated climate control that ensure the comfort and ease of its passengers.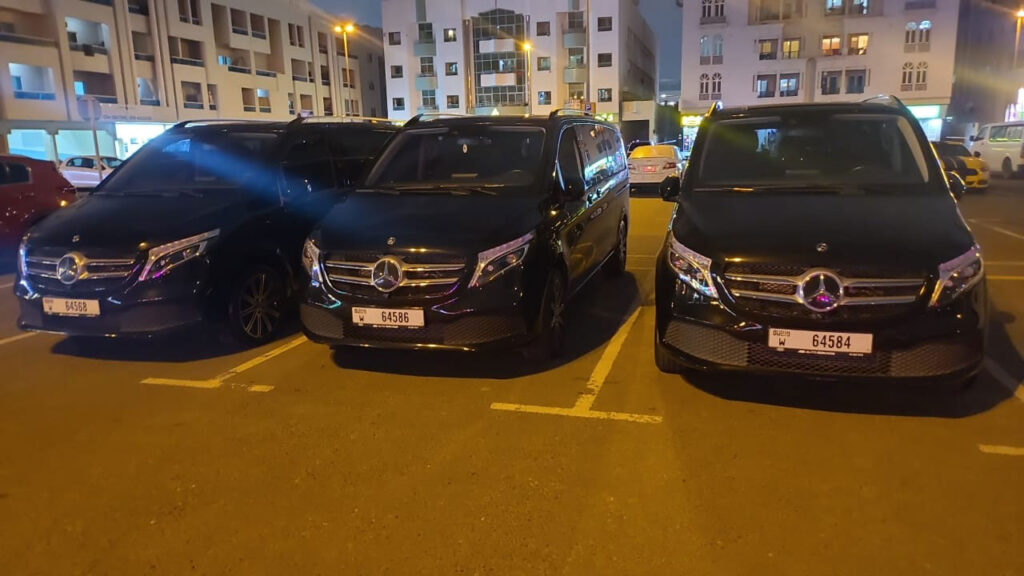 One of the advanced technologies of Mercedes V class is the Crosswind Assist which helps the chauffeur to counterweigh the impacts of strong crosswinds. It also comes with another amazing feature called Attention Assist, which helps to maintain the focus of the chauffeur on the road during long trips. Moreover, its anti-locking brake system with slip control and crafted cell ensure the safety of its passengers throughout the journey. It sets the bar rather high for important features in terms of safety and efficiency.
Mercedes Viano Chauffeur Car For Special Occasions
Special occasions are a major part of our lives and we should be able enjoy them to create magical moments and unforgettable memories to be cherished forever. This vehicle lets you do just that. The most advantageous feature of the Mercedes V Class luxury car is its seating capacity. Whether you're going to attend a wedding ceremony, award show, or any festival/concert alone or in a group, transportation facility is no more a major concern.
It is also an ideal choice for the wedding day as it is best to transport the bride and groom in the backseat of the wedding car. You can also transport the wedding guests from one place to another. Hiring a chauffeur-driven Mercedes Benz Viano for your special events can make a day stamped on your memory for all the good reasons.
Mercedes Viano Chauffeur Car For Airport Transfers
Traveling can be hectic when you need to travel to the airport with children or a large family along with heavy luggage. The Mercedes V Class cars are all-purpose vehicles and probably the only ones that one would need to help you take some of that stress off of your shoulders. The Mercedes Viano V Class car has proven to be one of the best chauffeur-driven cars for airport transfers for families and groups due to its plentiful luggage space and lavishly comfortable ride. A professional and experienced Mercedes V Class chauffeur service in Dubai will surely provide you a much-needed comfort to and from the airport within the allotted time at affordable rates. In brief, it offers complete safety and comfort while being gentle of your pocket.
Mercedes Viano Chauffeur Car For Business Travels
The Mercedes V class Chauffeur driven cars are the epitome of high-capacity luxury vehicles. They come with a spacious interior with multiple seat arrangements which makes these vehicles ideal for groups traveling to corporate events or business meetings in style. The swift and sleek chauffeured-driven Mercedes Viano can easily carry 5-6 passengers and their luggage. The chauffeur and other passengers can set up their individually adjustable seats to enjoy a smooth luxurious journey with comfort and privacy.
Mercedes V Class Chauffeur Hire From Indus Chauffeur
Indus Chauffeur Service offers the latest model of Mercedes Viano (V-Class) cars in Dubai. The Mercedes Viano is quite spacious and comfortable and is the perfect chauffeur-driven vehicle for large groups of people. Our experienced chauffeurs ensure the safety and comfort of their passengers by giving exceptional service. The process of the Mercedes Benz Viano V-class hire in Dubai from Indus Chauffeur is pretty simple and easy. You can book our services online or via email at book@induschauffeur.com